Engineering Schatz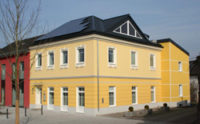 The company SCHATZ GmbH was founded in 1990 as engineering office. It offers comprehensive services in the area of mechanical and plant engineering.
We are specialists in the engineering of piping systems and design pipes ranging from small lubrication tubes to gas pipes with a diameter of 4 m. We construct using powerful hard- and software and our constructions are done exclusively in 3D.
Our tools for piping engineering are AVEA PDMS, Autodesk Inventor and Autodesk AutoCAD. Piping stress analysis is done with Rohr2, PipePlus and Mathcad. We offer visualization and virtual site inspection using Autodesk Navisworks.
A dedicated team of skilled engineers solves the versatile challenges of our customers in the areas of industrial plant engineering, chemical plant engineering, piping, mechanical engineering, polymer engineering and environmental engineering.*